Tony Tan's Dan Tat Recipe, perfect for Chinese New Year
Dan tat (egg tarts) by Tony Tan, author of Hong Kong Food City
One of the reasons why Hong Kong remains a global tourist attraction is its fascinating food scene. Few people know it as well as Melbourne based chef Tony Tan, whose new book Hong Kong Food City is filled with recipes, tips for where to go in Hong Kong for food, and a trip through the city's history that has made Hong Kong's food culture. Enjoy this recipe for yummy egg tarts, a regular feature in dim sum restaurants, just in time for the Chinese New Year.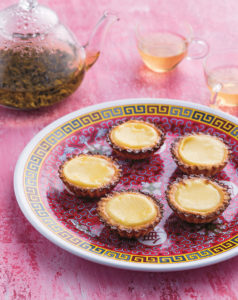 "Considered to be a legacy of the Portuguese and British, these ubiquitous Cantonese custard tarts have been around since the 1940s. They were made famous by the last British governor, Chris Patten, who declared Tai Cheong Bakery's tarts the best in the world. They're usually made with short pastry, although some bakeries, such as the Honolulu Coffee Shop in Wan Chai, make them with puff pastry.
Makes 15
Short pastry
225 g (8 oz) plain (all-purpose) flour, plus extra
for dusting
50 g (1¾ oz) caster (superfine) sugar
110 g (3¾ oz) cold butter, cut into small cubes
Custard filling
120 g (4¼ oz) caster (superfine) sugar
2 eggs, lightly beaten
100 ml (3½ fl oz) evaporated milk
½ teaspoon vanilla essence
To make the pastry, combine the flour, sugar and butter on a work surface and lightly rub with your fingers to partly combine. Make a well in the centre and add 2 tablespoons cold water. Using a pastry scraper, work the mixture into a buttery dough. Smear the dough away from you with the heel of your hand, then gather together and form it into a flat disc. Dust lightly with flour, wrap in plastic wrap and refrigerate for 20–30 minutes to rest.
To make the custard, put the sugar and 225 ml (7¾ fl oz) water in a small saucepan. Bring to the boil, stirring until the sugar has dissolved, then set aside to cool. Combine the eggs, evaporated milk and vanilla essence in a bowl, stir in the cooled sugar syrup and mix well without creating bubbles. Strain the mixture through a fine sieve into a jug.
Preheat the oven to 200°C (400˚F). Roll out the pastry on a lightly floured bench to a thickness of 5 mm (¼ inch). Using a fluted cookie cutter a little larger than your tart cases (see Note), cut the dough into rounds. Ease the pastry rounds into the buttered cases, transfer to the oven rack and pour the custard into the pastry cases.
Bake for 12–15 minutes or until the edges are lightly browned, then reduce the heat to 180°C (350°F) and carefully rotate the tray. Continue to bake for
10 minutes or until the custard is slightly puffed. Cool for 10 minutes before removing the tarts from their cases.
Note I used 6 cm (2½ inch) pastry cases. Any leftover pastry can be frozen for up to a month."
Listen to Tony Tan's interview with Adelaine Ng here:
https://soundcloud.com/travelwritersradio/chef-tony-tan-on-hong-kong-food-city-adelaine-ng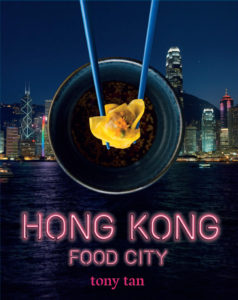 Hong Kong Food City by Tony Tan (Murdoch Books, RRP $49.99) Photography by Greg Elms